We Build Quality Retaining Walls Newcastle And Beyond
We are Newcastle's retaining wall Landscapers. Building retaining walls to suite your needs. Contact us to arrange an on-site design consultation.
Building Retaining Walls, Newcastle, And The Southern Areas.
Welcome to our site. Building retaining walls Newcastle and the outer areas. We pride ourselves on building quality and affordable Newcastle retaining walls for your property.
There's something about building a new retaining wall on your property. It's something you can admire and if built right can look spectacular. Here at Stylish Retaining Walls Newcastle we are the retaining wall specialists when it comes to building a new retaining wall. We specialise in helping you dream, design and create your new retaining wall to meet your requirements and to complement the beautiful Newcastle lifestyle.
Whether it's ground stabilization, changing the contours of the land, leveling out certain areas around the house or even at your business, or maybe you're looking to build a retaining wall as simply a garden feature or around a new or existing swimming pool. Building a retaining wall in Newcastle can be a solid investment you should look to consider. Not only does it add value to your land but also can add a touch of class and style to any property, making your Newcastle retaining wall unique to your property.
Free On-Site Design Quote. Please Fill Out The Form Below And We'll Be In Touch
Timber Retaining Walls
Timber retaining walls add a difference to any landscape area. They are as strong as any other type of retaining wall but add that extra natural effect that can blend into any landscape area. We can build a number of different styles of timber retaining walls.
Concrete Retaining Walls
Concrete retaining walls can come in a number of different styles and colours to suite the outlook you're looking for. Concrete retaining walls can add a real touch of class to your property. And are a very durable product.
Stone/ Rock Retaining Walls
Stone retaining walls again can add a that natural feel to your property. They can blend into most backgrounds and add a touch of style and that country feel. You have many options available with a stone retaining wall. Size style and colours.
Dry Stack Retaining Walls
Dry stack or brick retaining walls add a different style to the other walls but when done right can truly look amazing. There are many options with building this style of retaining wall
Why Use Us To Build Your Next Newcastle Retaining Wall.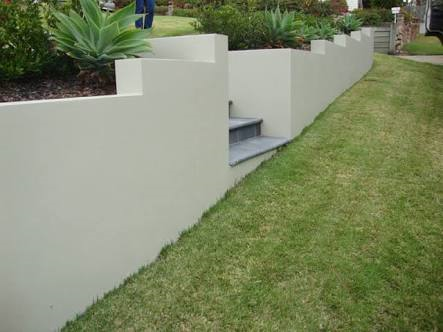 A rendered wall that also acts as a boundary fence. Really works well with the sloping block.
At Stylish Retaining Walls Newcastle our builders will work closely with you to service your inquiries throughout the whole stage of building your new stylish looking Newcastle retaining wall. If you wish to know a bit more in detail about retaining wall construction you can read this. Or this article from the Sydney council.
First we will have a relaxed chat to get an idea as to what type of retaining wall your looking to build. Then we will evaluate your land to get an idea of what we are working with and the option we have available.
Then we will work closely with you to get you the best price possible for the style of retaining wall your looking to build. We'll work with you through the design process and will only move forward when you are completely happy with what we have designed.
Then we'll move onto the construction process. If required we can also help organise the engineering process and help guide you through possible building permits and protection work notices if required. Although we are building your retaining wall we will make sure your satisfied throughout the whole building process. If you have any questions or your ready for a free on-site consultation please feel free to give us a call